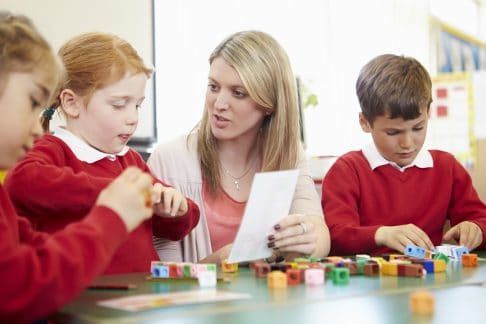 Building teacher expertise in NSW schools – Sydney
Australia has many pockets of excellence in school education, but not yet a system of excellence. It's time to get serious about improving teaching.
Grattan Institute has publicly advocated for dedicated roles for the most expert teachers, to lift the quality of teaching practice. Many of these new roles should focus on subject expertise, which too often flies under the radar. Expert teachers know the common misunderstandings that students face in each discipline, and the best ways to overcome them. They know how to move students from basic skills such as memorisation to higher-order skills such as critical thinking. And they can teach other teachers.
In this Forward Thinking event, the panel discussed: what teaching expertise looks like; how access to expert teachers could help every teacher improve their practice; what support expert teachers themselves need; and the benefits and risks of embedding expertise into teacher career paths.
Speakers
Michelle Tregoning, Numeracy Coordinator for Early Action for Success, is a primary school teacher with a particular affinity for mathematics and numeracy. During her career, Michelle has worked as ​a classroom teacher across K-6, specialist support teacher, Assistant Principal, relieving Principal and Instructional Leader. She is currently the numeracy coordinator for Early Action for Success (EAfS), a NSW department initiative designed to enrich the learning outcomes of disadvantaged students across the state. Her challenge in this role is to build the expertise and pedagogical content knowledge of Instructional Leaders and teachers currently working with over 70,000 K-2 children in the 570 schools that take part in EAfS.
Murat Dizdar PSM is the Deputy Secretary, School Operations and Performance. He leads the public education system of over 2,200 NSW Department of Education schools and 65,000 teachers that provides a quality public education for 800,000 students. The School Operations and Performance division is responsible for school planning, ongoing self-assessment and external validation, annual reporting and policy implementation. Murat's career with the NSW Department of Education began as a social sciences teacher at Ashcroft High School. He has experience in a range of school leadership roles including being senior principal of Belmore and Punchbowl Boys High School. Murat holds a Bachelor of Education from the University of Sydney, and recently undertook the Leadership for the 21st Century course at Harvard Kennedy School. Murat was awarded the Australia Day Public Service Medal in 2016.
Dr Pete Goss, School Education Program Director, joined Grattan in 2014, and has focused on how education systems and data can help schools and teachers adapt and improve their practice. Prior to joining Grattan, he spent more than 10 years as a strategy consultant, most recently with the Boston Consulting Group, and worked with Noel Pearson to improve education outcomes for Cape York primary school students. Peter trained as a biologist, with a focus on understanding complex systems.
Moderator
Megan French is the Marketing Manager for Grattan and the producer and host of the Grattan Institute podcast. Her previous roles in Melbourne have focused on event management, particularly in corporate environments as well as brand management, marketing and relationship building. Megan moved to Melbourne in 2012 following a brief stint living in Italy and prior to this, spent 5 years with the Department of Education Queensland, primarily as a policy officer.