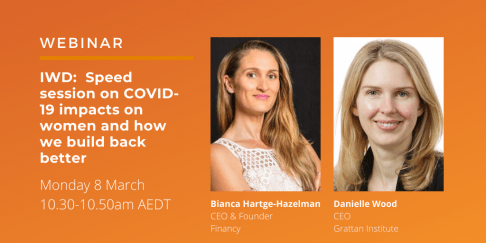 IWD Speed Briefing: everything you need to know about the impact of COVID on Australian women in 20 mins
This Monday 8 March, International Women's Day, you are invited to a special Speed Briefing event hosted by Financy and Grattan Institute.
We know you are busy, so grab a coffee and get a quick download on the issues crucial to women's economic progress: How did women fare in 2020? What has COVID done to gender equality? And how can women, business, and government build back better in 2021 and beyond.
This webinar event will feature Financy Women's Index Founder Bianca Hartge-Hazelman and Grattan Institute CEO Danielle Wood as they discuss the most important take-outs from their new reports: the Financy Women's Index December quarter and Grattan's latest policy report, Women's Work: The Impact of the COVID crisis on Australian women.
Event details
Date: Monday 8 March
Time: 10.30am – 10.50am AEDT
Speakers
Bianca Hartge-Hazelman is the Founder and CEO of Financy. She has had a longstanding career covering Australia's financial markets, business activities and economics. In 2016, Bianca took a voluntary redundancy from Fairfax Media to boot-strap the creation of women's money content hub Financy.com.au and a year later she launched the Financy Women's Index – a scorecard and report on the economic progress of Australian women.
Danielle Wood is CEO of the Grattan Institute and head of our Budget Policy and Institutional Reform Programs. Danielle has published extensively on economic reform priorities, budget policy, tax reform, generational inequality and reforming political institutions. Danielle previously worked at the ACCC, NERA Economic Consulting and the Productivity Commission. Danielle is the National President of the Economic Society of Australia and was co-founder and former Chair of the Women in Economics Network.