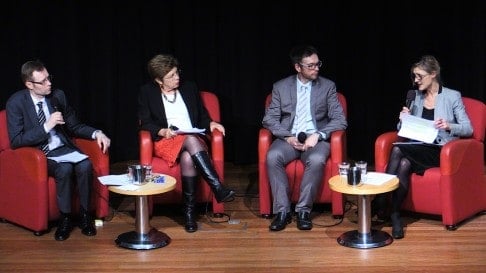 What's happening to graduate employment?
In 2014, new graduates of Australian universities faced the toughest labour market ever for university-qualified people. Nearly a third of those looking for full-time work had not found it four months after completing their degrees. At the same time, one in five graduate employers indicated that they would have hired additional staff if more appropriate applicants had been available. This Policy Pitch event looked at what is going on in the graduate labour market and what might be done to improve employment prospects.
Speakers
Andrew Norton is the Higher Education Program Director at Grattan Institute. Andrew has worked as a policy adviser to the Vice-Chancellor of the University of Melbourne and as a research fellow at the Centre for Independent Studies. He has written widely on higher education, and in the late 1990s was higher education adviser to the then federal education minister, Dr David Kemp. With Dr Kemp, he conducted a federal government review of the higher education demand-driven funding system, with its report published in April 2014.
Anne Younger is the General Manager of Education and Training at the Australian Industry Group.  Anne is involved with policy development and manages the organisation's Education and Training Advisers and Industry Skills Advisers who work with member companies. Anne previously managed Ai Group's training services and, prior to that, managed Ai Group's national team of 20 business advisers under the Federal Government's Enterprise Connect program to improve productivity in SMEs. Before joining Ai Group, Anne worked for over 25 years in the VET sector in a range of roles including management roles at the TAFE Development Centre, Holmesglen and Chisholm Institutes; the Australian Competency Research Centre; and the Office of Training and Further Education.
David Carroll is a Senior Research Associate at Graduate Careers Australia. David has been actively involved in higher education research for over a decade, with a particular focus on the graduate labour market and students' experiences of higher education. He has authored or co-authored numerous reports and presentations on these topics, and his award-winning scholarly research has been published in the Economics of Education Review, Education Economics, and by the German-based Institute for the Study of Labor. David holds bachelors and masters degrees from the University of Southern Queensland and will soon receive a PhD in economics from the University of New South Wales.
Professor Beverley Oliver is the Deputy Vice-Chancellor (Education) at Deakin University. She leads Deakin's education strategy and reform and management of the student learning experience. These include Deakin's university-wide course enhancements, 2012-2015, which see graduate employability feature prominently in all courses. Beverley leads the Curate, credential and carry forward digital learning evidence project. It connects Australian institutions with international innovators and industry in the use of tools such as digital badging that enable all students to curate rich evidence of learning. Beverley is editor of the Journal of Learning and Teaching for Graduate Employability.
Here is a list of suggested readings from the State Library of Victoria that are relevant to the themes explored in this event: