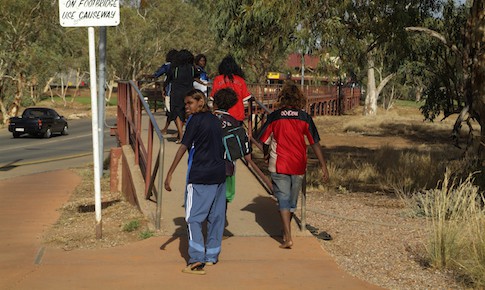 The shocking truth about Australia's efforts to 'close the gap'
by Peter Goss
The "gap" between Indigenous and other Australian school students in reading, writing and numeracy skills is even bigger than official figures show.
On the eve of the 10th annual "Closing the Gap" report to Federal Parliament, new research by the Grattan Institute shows that for some groups of Indigenous students, the difference is more a gulf than a gap.
It reveals that Year 9 Indigenous students in very remote parts of Australia are five years behind in numeracy, six years behind in reading, and seven-to-eight years behind in writing.
In other words, the average Year 9 Indigenous student in a very remote area scores about the same in NAPLAN reading as the average Year 3 non-Indigenous student in the city, and worse in writing.
In this submission to the Closing the Gap Refresh Initiative, Grattan's School Education Program Director Peter Goss says the numbers are shocking, and warns that Australia won't make the necessary policy changes unless we are willing to take a clear-eyed look at the real scale of the challenge.
The research, using a robust metric developed by Grattan Institute, shows the gap grows as students move through school.
At a national level, Year 9 Indigenous students are on average 3.0 years behind their non-Indigenous peers in numeracy, 3.4 years behind in reading, and 4.2 years behind in writing.
Those gaps have grown since the students were in Year 3, when Indigenous students ranged from being on average 1.2 years behind in numeracy to nearly two years behind in reading and writing.
In other words, Indigenous students make on average about two years less learning progress from Year 3 to Year 9 – a substantial progress gap.
This is true even in the cities and regions, where most Indigenous students live.
Dr Goss makes three recommendations designed to help close the gap, including ensuring that teachers in remote secondary schools have the training and support to teach basic reading, writing, and numeracy.
"These suggestions are far from sufficient. But they are part of the conversation we have to have," he says.
Tweet
Download a copy of the submission