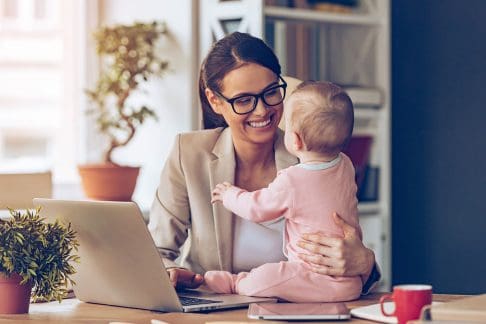 How to boost female workforce participation – Webinar Event
Increasing female workforce participation is one of the biggest long-term economic opportunities for governments. Australia's female workforce participation rate is above the OECD average, but Australian women are much more likely to work part-time than their overseas counterparts. Before COVID-19, a typical Australian woman with pre-teenage children worked 2.5 days per week.
Is this what women want? Why do the work patterns of mothers look so different from those of fathers? Why is part-time work so common for Australian women compared to women in other developed countries? How has COVID-19 changed the equation? And what can governments do to reduce the barriers for women who want to do more paid work?
Join our expert panel online at this State Library Victoria and Grattan Institute Policy Pitch for a lively discussion about the financial, cultural, and time barriers to greater female workforce participation. The panel will identify changes in workplaces, families, and government policies that would help expand choices for Australian women. And we want to hear from you — please join in by submitting your questions.
Event details
Wednesday 12 August, noon-1pm
Speakers
Miranda Stewart is Professor and Director of Tax at Melbourne University Law School and a Fellow at the Tax and Transfer Policy Institute (TTPI) at the Crawford School of Public Policy, Australian National University. Miranda was the inaugural Director of TTPI from 2014 to 2017. Miranda researches, teaches and consults on a wide range of tax law, policy and budget topics, including the gender equality impact of intersecting tax, transfer and childcare settings in Australia. She is a frequent public and media commentator on tax and budgeting and was named as one of the AFR's 100 Women of Influence in 2018.
Emma Walsh is the CEO of Parents At Work, a social enterprise supporting both parents and organisations to better manage the challenges that employees face when juggling work and family life. Emma is an author, international speaker and passionate campaigner for improving parental leave and flexible work rights for working parents.  She also makes significant contributions to the development of aspiring and emerging (particularly female) leaders. Emma has been shortlisted for the Telstra Business Woman of the Year and has been recognised for her business achievements via the Australian Human Rights Business Awards, Top 200 Business of Tomorrow by Westpac in 2017 and Winner of the Visa Business Awards in 2013.
Danielle Wood is CEO of the Grattan Institute and head of our Budget Policy and Institutional Reform Programs. Danielle has published extensively on economic reform priorities, budget policy, tax reform, generational inequality and reforming political institutions. Danielle previously worked at the ACCC, NERA Economic Consulting and the Productivity Commission. Danielle is the National President of the Economic Society of Australia and was co-founder and former Chair of the Women in Economics Network.
Moderator
Paul Austin is the Editor at Grattan Institute. Paul worked for many years as a journalist and editor at Fairfax and News Corporation. He reported from the Canberra and Spring Street press galleries, and was at various times Deputy Editor and Opinion Editor of both The Age and The Australian newspapers. He won a Quill Award for best deadline reporting and was highly commended in the Walkley Awards for best feature writing and the Quill Awards for best columnist.