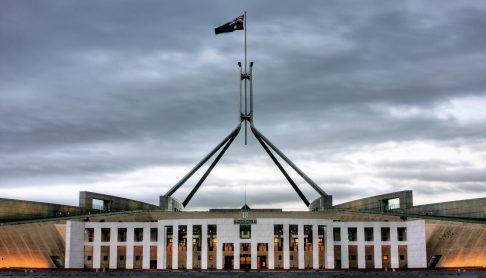 How to reignite policy reform in Australia
Australia has struggled with policy reform over the past two decades. Policy failures abound, not least with climate change. What has happened to the country that was the OECD's poster-child of reform through the 1980s and 1990s?
Concerns are growing that the failure of so many reforms is the result of decaying institutions and a hostile environment rather than just happenstance or indifferent leadership.
In this special Grattan Webinar Event, three of Australia's leading policy thinkers will discuss what would need to change to improve Australian policy reform.
Martin Parkinson has seen policy debates and institutions evolve at first-hand for decades as the Secretary of the Departments of Climate Change, Treasury, and then Prime Minister and Cabinet. His recent publication, A Decade of Drift, analyses the twists, turns, and failures of climate policy. It notes how other policy areas from tax to innovation have struggled too.
Don Russell has worked closely with ministers and their private offices at both the federal and state level. He was principal adviser to Paul Keating during his time as Treasurer and Prime Minister, and subsequently served as Australia's ambassador to the US. In his recent publication, Leadership, Don reflects on politicians, the political process, and the role of government, and suggests that Australians want their elected officials to lead.
Martin and Don will discuss the challenges for reform with John Daley, CEO of Grattan Institute for its first 11 years. John is preparing a report for Grattan that examines the institutional forces that have led some policy changes to happen and many more to fail, over the past decade.
This broad online discussion will range from the tales of hand-to-hand policy combat, to analysis of the big institutional forces at work. It will debate what Australia should do differently so that the next decade is better.
Event details
Thursday 20 May, noon-1.00pm AEST

Speakers
Dr Martin Parkinson AC PSM served in Commonwealth Government leadership positions on all facets of economic, social, foreign, defence, and national security policies for almost 40 years. As the secretary of the Department of the Prime Minister and Cabinet between 2016 and 2019, Martin was Australia's most senior public servant. He served as secretary to the Treasury between 2011 and 2014, and before that was secretary of Australia's inaugural Department of Climate Change from 2007. During his tenure, Martin led our key public sector organisations through a period of considerable political uncertainty, serving under five prime ministers.
Dr Don Russell has extensive experience in both the public and private sectors, and a unique perspective on policy formulation and the political process. He served as Australia's ambassador to the United States during the Clinton years and was principal adviser to Paul Keating during his time as Treasurer and Prime Minister. Until 2018, Don was the Chief Executive of the South Australian Department of Premier and Cabinet. His previous roles include Secretary of the Commonwealth Department of Industry, Innovation, Climate Change, Science, Research, and Tertiary Education, and senior roles at global firm BNY Mellon Asset Management Australia and Sanford C. Bernstein in New York. Don is currently the Independent Chair of AustralianSuper, Australia's largest superannuation fund.
John Daley is one of Australia's leading public policy thinkers. He was Chief Executive Officer of the Grattan Institute for its first 11 years. While at Grattan, John published leading reports on institutional reform, government priorities, budget policy, tax reform, retirement incomes, and housing affordability. He continues to consult and publish on public policy issues. He has 30 years' experience spanning academic, government, and corporate roles at the University of Melbourne, the University of Oxford, the Victorian Department of Premier and Cabinet, consulting firm McKinsey and Co, and ANZ Bank. John is also the Chair of the Australian National Academy of Music, a Director of the Myer Foundation, and a keen amateur pianist and gardener.
Moderator
Danielle Wood is CEO of the Grattan Institute. She believes in the power of public policy to make Australia a better place. Danielle has published extensively on economic reform priorities, budget policy, tax reform, generational inequality, and reforming political institutions. She is a sought-after media commentator and speaker on policy issues. Danielle previously worked at the ACCC, NERA Economic Consulting, and the Productivity Commission. She holds an Honours degree in Economics from the University of Adelaide and a Masters degree in Economics and Competition Law from the University of Melbourne. Danielle is also National President of the Economic Society of Australia and co-founder and former Chair of the Women in Economics Network.