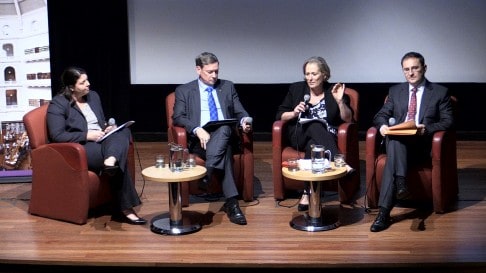 Melbourne – Mind the gaps: what can we do about widening gaps in school education in Australia?
Learning gaps between Australian students of different backgrounds are alarmingly wide and grow wider as students move through school.
Grattan Institute recently published Widening gaps: what NAPLAN tells us about student progress. The report finds that the gap between students with parents with low education and those with highly educated parents grows from 10 months in Year 3 to around two-and-a-half years by Year 9. Bright kids in disadvantaged schools fall two and a half years behind bright kids in advantaged schools by Year 9, even though they were doing just as well in Year 3.
These students are not getting a fair go.
Dr Peter Goss, Grattan Institute School Education Program Director,  hosted a panel of senior leaders in school education to explore:
How big are these learning gaps, and what do they mean in practice: for young Australians, for the economy and for Australian society?
What should we do to enable every child in every school to achieve their potential?
Speakers
Dr Peter Goss is the School Education Program Director at Grattan Institute. He has over 10 years' experience as a strategy consultant, most recently with the Boston Consulting Group. His second Grattan report Widening gaps: What NAPLAN tells us about student progress, was released on 22 March 2016. It highlighted that the learning gaps between Australian students of different backgrounds are alarmingly wide, and grow wider as students move through school.
Melodie Potts-Rosevear is the Founder and CEO of Teach For Australia. Melodie's passion to challenge educational inequity was inspired by her work with disadvantaged schools in Cape York and the USA. While completing her Master's in Public Policy at the Harvard Kennedy School of Government, Melodie developed the original vision and business plan of Teach For Australia. As CEO, she continues to lead the organisation, providing strategic direction to its growth, sustainability and impact. In 2014, Westpac and The Australian Financial Review named Melodie one of the 100 Women of Influence in recognition of her contribution to combating educational inequity in Australia.
Geoff Masters is Chief Executive Officer of the Australian Council for Educational Research (ACER). He has a PhD in educational measurement from the University of Chicago and has published widely in the fields of educational assessment and research. He authored Australian Education Review No. 57, Reforming Educational Assessment: Imperatives, principles and challenges (2013). He has conducted multiple reviews for Australian governments, covering assessment, reporting, and strategies for improving school performance. Professor Masters is an adjunct professor in the Queensland Brain Institute. His contributions to education have been recognised through the award of the Australian College of Educators' Medal in 2009 and his appointment as an Officer of the Order of Australia in 2014.
Sonia Sharp is currently a Principal in Nous Group's Public Policy practice. Sonia has worked at Executive Board level for the past 17 years in the UK and Australia, building on a background in teaching, psychology and research. She has worked across all aspects and levels of policy and delivery for children, young people and families – early years, education, health, human services, youth justice, skills and economic development. Sonia was formerly Deputy Secretary for Early Childhood and School Education in the Department of Education and Training, Victoria. Prior to this, she held a number of senior executive roles in large cities in the UK, having managed children's services in both urban and rural environments. She is a chartered psychologist, has taught in mainstream and specialist schools and was Principal Research Fellow on a national anti-bullying program.
Below is a suggested reading list from the State Library Victoria and Grattan Institute