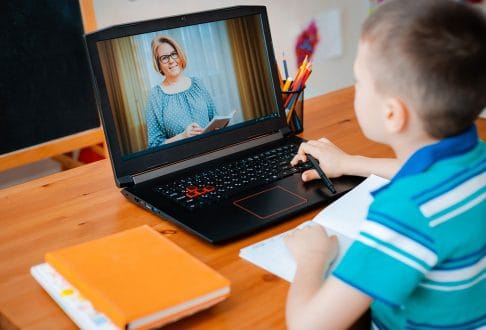 Schools and equity: helping disadvantaged students catch-up after lockdowns
Australia has an equity problem in schools. Vulnerable children start school behind, and fall behind even further over their school years. Remote schooling during COVID lockdowns has made these problems even worse.
What can governments, schools, and teachers do to help disadvantaged students in Australia to catch-up, after the lockdowns and over the long term? Why haven't past efforts worked?
In response to the COVID crisis, the UK government invested 1 billion pounds in a new national tutoring scheme to help disadvantaged students catch-up. Should Australia do something similar?
In this special Grattan Institute webinar event, three experts will discuss the options to help vulnerable students in their learning, as well as recommendations from Grattan Institute's recent report COVID catch-up: helping disadvantaged students close the equity gap.
Our panel will assess the evidence about what works best in schools and why, the lessons from COVID for education policy makers, and the potential roadblocks to worthwhile equity reforms. And we want to hear from you — please join in by submitting your questions.
Event details
Monday 28 September, 4.30-5.30pm (Melbourne)
Monday 28 September, 7.30-8.30am (London)
Speakers
Dr Jennifer Buckingham is the director of strategy and senior research fellow at MultiLit, and founder and director of the Five from Five reading project. Jennifer is a board member of the Australian Institute for Teaching and School Leadership (AITSL) and the Centre for Independent Studies (CIS).
Robbie Coleman is Head of Policy at the Education Endowment Foundation (EEF), an independent grant-making charity dedicated to challenging educational disadvantage, sharing evidence and finding out what works. Robbie is the co-author of a report estimating the impact of school closures related to coronavirus on the attainment gap and part of the team setting up the National Tutoring Programme, an initiative designed to support schools to address the impact of Covid-19 school closures on pupils' learning in English schools. All of the EEF's resources, including its analysis related to the impact of coronavirus on education are available here.
Julie Sonnemann is the acting Director of School Education at Grattan Institute. Julie has significant experience in education policy and system design, and has co-authored several high-profile reports on effective teaching, professional learning, equity, and funding. She is a trained economist and has experience in government, research, and consulting organisations.
Host

Kat Clay, our host, is the Head of Digital Communications at Grattan Institute. Kat has more than 12 years of experience in digital content and creative services across the non-profit and government sectors. In previous roles she produced successful digital and video marketing campaigns for Cancer Council Victoria and SecondBite.