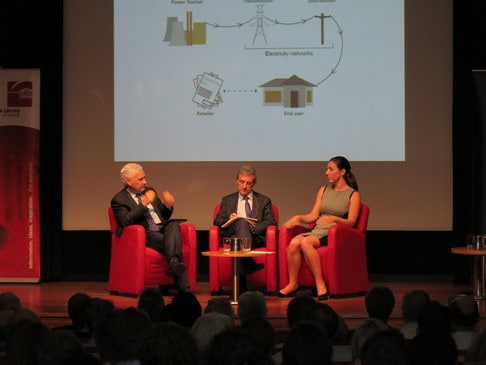 Shock to the system: why power use is falling but bills keep going up
Governing will almost certainly become a lot harder in the next 20 years. At this seminar Grattan Institute's Energy Program team highlighted some of the most pressing problems facing the Australian electricity sector.
Falling demand for electricity has been a continuing trend for a number of years. The trend has major implications for the value of assets in the energy sector. It raises questions such as:
• Why is demand falling and how will it change the electricity system?
• What are the consequences for policy makers and for consumers?
• Who will pay for the lost value of surplus assets?
Interested in delving deeper into this subject? We have prepared a reading list for you!
Grattan Institute
State Library of Victoria
Please note that you need a Library card to access State Library of Victoria resources from home. Join the Library now.
Speakers:
Rob Gell is a coastal geomorphologist by training; he began his career as an academic teaching Environmental Science and Physical Geography at Melbourne State College and Melbourne University, then for more than thirty years presented television weather. In his professional life he now works as an environmental and communications consultant and is a Director of bhive Group Pty Ltd – mobile media and World Wind Pty Ltd. He is an Adjunct Associate Professor, Collaborative Research Network, Federation University Australia, Chairman of the UNESCO Western Port Biosphere and of Wildlife Victoria and is a member for the Victorian Coastal Council. He was a director of Greening Australia for thirteen years, seven years as Victorian President and three years as national President concluding in 2011. Rob is a Fellow of the Royal Geographical Society and an Inaugural Fellow of the Environment Institute of Australia and New Zealand. He is also a published author and a photographer. In January 2014 Rob was awarded a Member of the Order of Australia in recognition of his service to conservation, to the protection of coastal and marine environments, and to the community.

Tony Wood, Energy Program Director, Grattan Institute. Tony Wood joined Grattan Institute to lead the Energy Program in mid-2011. Since then he and his team have delivered four major reports on energy and climate change and he has developed a strong profile with governments and industry, and is a regular contributor in major media on key energy issues. He also retains a role as Program Director of Clean Energy Projects at the Clinton Foundation, advising governments in the Asia-Pacific region on effective deployment of large-scale, low-emission energy technologies such as solar and CCS. Prior to these roles, he spent 14 years working at Origin Energy in senior executive roles covering retail and LPG line management and corporate affairs.
Lucy Carter, Energy Fellow, Grattan Institute. Prior to joining Grattan Institute, Lucy worked for major power companies in Australia and Hong Kong and as an investment advisor, specialising in power and infrastructure assets. Her areas of expertise include corporate finance and strategy, integrating sustainability strategy and financial objectives, commercial analysis, government policy and regulatory economics. Lucy holds a Master of Applied Finance, a Bachelor of Electrical Engineering with Honours and a Bachelor of Commerce from the University of Melbourne.
The Policy Pitch is a joint initiative of the State Library of Victoria and Grattan Institute to provide a public interest series on key policy themes. These free public seminars will offer lively, intelligent and thoughtful debate.