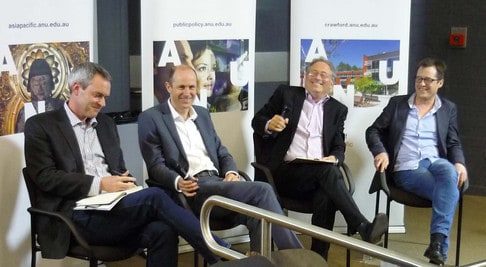 Spreading smart ideas: Policy priorities to accelerate the spread of innovations
Innovation is about much more than taking Australian inventions to market. Australia needs to capture opportunities in the global innovation system, and adopt and adapt innovations from elsewhere. What are these opportunities? How well is Australia exploiting them at present? What should policy makers do differently to assist in these endeavours? Join us at this forum to hear the panel explore the policy challenges in exploiting today's commercially relevant technologies.
Watch a recording of the event
Panellists:
Dr Mark Matthews Executive Director, HC Coombs Policy Forum, Crawford School of Public Policy, ANU
Dr Jim Minifie Productivity Growth Program Director, Grattan Institute
Brad Krauskopf CEO, Hub Australia and Australia's Small Business Ambassador for 2013
Iarla Flynn Head of Public Policy, Google Australia
This panel discussion explored how the adoption and adaptation of global innovations can strengthen the Australian economy:
How do smart ideas spread?
• What drives competitive advantage in global value chains?
• Should small countries dispense with domestic R&D, and shift to acquiring and adapting the best technologies emerging internationally?
• How are Australian firms – large and small – positioned to participate?
What are today's smart ideas?
• What are today's leading edge commercially relevant technologies?
• Are these technologies big enough to matter, or are we entering a great stagnation?
• Do today's 'smart ideas' spread in a different way to past technologies?

What policies will speed the spread of today's smart ideas?
• What can Australian policy makers learn from elsewhere?
Please have a look at this article written about the event on the ANU website.
This public forum was held in partnership with HC Coombs Policy Forum, Crawford School of
Public Policy and ANU College of Asia & the Pacific.