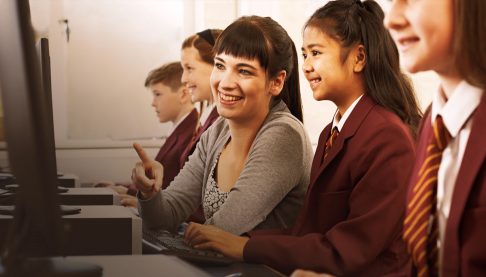 State of Affairs: Attracting teachers with the school education program – Brisbane
Bright young Australians are interested in becoming teachers, but are put off by low pay and poor career progression. That's the finding of Australia's first survey of young high achievers on their attitudes to teaching as a career choice.
In this Grattan Institute State of Affairs event, the panel will discuss what changes can be made to position a teaching career as an attractive option for young Australians.
Tue 22 October 2019
6-7:15pm
State Library of Queensland
Stanley Place, South Bank
South Brisbane
Speakers
Julie Sonermann is the School Education Fellow at Grattan Institute.
Julie has significant experience in education policy and system design, and has co-authored several high profile reports on effective teaching, professional learning, equity and funding. She has over ten years of experience in school education policy, working within government, consulting and research organisations. She has studied high performing school systems in East Asia and North America, and consulted to the Australian government, the OECD Education Directorate and the Bill and Melinda Gates Foundation.
Graham Moloney, General Secretary, Queensland Teachers' Union
Graham leads the organisation representing the professional and industrial interests of over 44,000 teachers and principals in Queensland state schools and TAFE Colleges. This involves public advocacy and campaigning for teachers and public education, representation of teachers and provision of services including legal assistance. Representation of union to department employers, Queensland government, and union movement through Queensland Council of Unions.
Isobel Dagg, former graduate English Teacher
Since graduating in teaching, Isobel as taught in schools in rural Victoria and England. She is in a unique position to offer her views on the changes that can be made to position a teaching career as an attractive option for young Australians.