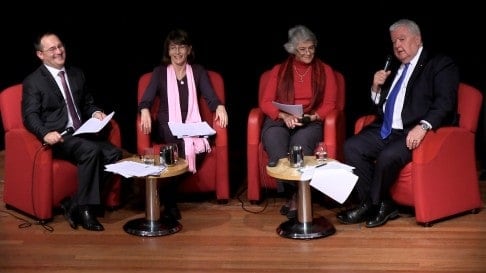 STEM for all: Building the capability of all young Australians in Science, Technology, Engineering and Maths
Education commentators divide over how much to promote the disciplines now known as STEM: Science, Technology, Engineering and Mathematics.
We hear that Australia's future productivity depends on our strength in the STEM disciplines. Yet in many of these disciplines, there are more university graduates than jobs for them.
We hear that the future belongs to those with the skills to become the next Bill Gates or Mark Zuckerberg. Yet the proportion of young Australians who study science or maths to Year 12 is in long-term decline.
We hear that Australia punches above its weight in research. Yet by the time students reach Year 9, more than one in three lack the scientific and/or numerical literacy they need to thrive. For students from disadvantaged backgrounds, the numbers are far bleaker.
Dr Peter Goss, Grattan Institute School Education Program Director,  hosted an expert panel to explore these contradictions.
Do all, or only some, young Australians need a strong foundation in STEM? What are the essential capabilities that make up this foundation?
How well are we performing today? Which students are being well supported, and which are being left behind?
What can we do to

deepen

and

broaden

STEM in schools so that every young Australian has the capabilities to participate fully in the modern world?
Speakers:
Professor Ian Chubb commenced his role as Australia's Chief Scientist on 23 May 2011. Previous roles include: 2001-2011 Vice-Chancellor The Australian National University, 1995-2000 Vice-Chancellor Flinders University of South Australia, 1993-1995 Senior Deputy Vice-Chancellor Monash University, 1990-1995 Chair of the Commonwealth's Higher Education Council and 1986-1990 Deputy Vice-Chancellor University of Wollongong. Professor Chubb was appointed a Companion of the Order of Australia for "service to higher education including research and development policy in the pursuit of advancing the national interest socially, economically, culturally and environmentally and to the facilitation of a knowledge-based global economy".
Anne Hampshire is Head of Research and Advocacy at The Smith Family. She has a background in education, research, social policy and service innovation. Anne has researched and written in a range of areas, including young people, children and families. She has contributed to the development of initiatives aimed at addressing disadvantage including for young people and families, and communities experiencing long term disadvantage. The Smith Family supports the long-term participation in education of disadvantaged children and young people. It has developed and successfully implemented the early maths program, Let's Count.
Dianne Siemon is Professor of Mathematics Education in the School of Education at RMIT. Di is a past President of the Australian Association of Mathematics Teachers and a life member of the Mathematical Association of Victoria. The primary focus of Di's research is how students develop the big ideas in number that underpin mathematical reasoning in years K-9. She has developed a range of practical learning and teaching resources for schools and teachers, such as the Scaffolding Numeracy in the Middle Years Project. She was on the National Mathematics Advisory Panel for the development of the Australian Curriculum: Mathematics.
Dr Peter Goss is the School Education Program Director at Grattan Institute. Pete has over 10 years' experience as a strategy consultant, most recently with the Boston Consulting Group, advising Federal and State governments on service delivery innovation. He has worked with Noel Pearson to improve education outcomes for Cape York primary school students, and advised the Federal Government on the future of international education in Australia.