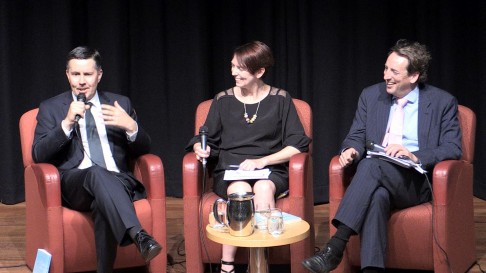 Striking a new generational bargain
Many of our expectations about older age are changing.  People are living much longer, and are acquiring much more wealth. The average Australian aged 65 now expects to live well into their mid-80's and to be a millionaire. These are tremendous achievements. But according to Mark Butler's new book, Advanced Australia: The Politics of Ageing, we need to rethink our attitudes to ageing. And as shown in Grattan Institute's report, The Wealth of Generations, we can no longer rely on the generational bargain, under which each generation of working Australians supported retirees while still improving its own standing of living. In this Policy Pitch event at State Library Victoria, Mark Butler and Grattan CEO John Daley discussed the policy implications of an ageing population.
Moderator
Helen Westerman is a journalist and communicator with 20 years experience in digital and print journalism. She is currently Business Editor at The Conversation website. Helen has covered news, business and finance for The Age newspaper and was the small business online editor for The Age and Sydney Morning Herald.
Speakers
Mark Butler has been the Labor Member for Port Adelaide in the federal parliament since 2007 and served as Minister for Ageing in the Gillard government. He has also held the ministries of Mental Health, Housing, Homelessness, Social Inclusion, Climate Change and the Environment. In 2013 Mark was awarded the Alzheimer's Disease International Award for Outstanding Global Contribution to the Fight against Dementia. Mark is currently the Labor spokesperson for the Environment, Climate Change and Water and national president of the Australian Labor Party.    
John Daley is the CEO at Grattan Institute. John is one of Australia's leading public policy thinkers, with 25 years experience in the public, private and university sectors. He has worked for ANZ and McKinsey in a career that also includes expertise in law, finance, education, and workers compensation.