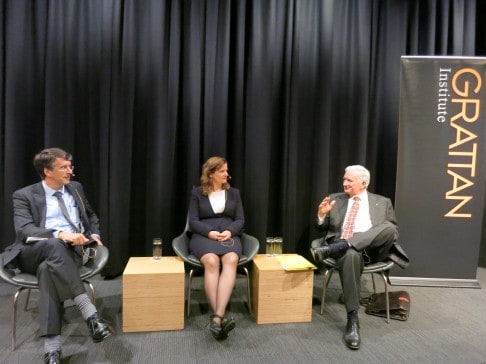 Roads to riches: how to drive our transport dollar further 
Too much of the unprecedented sums spent on transport infrastructure in the past decade has been spent on the wrong projects, and in states and electorates where elections are won and lost. In the current election campaign, both main parties are once again making promises that breach principles and processes designed to ensure value for the infrastructure dollar. Nick Greiner, former NSW Premier and former chairman of Infrastructure NSW, discussed a better approach with Grattan Transport Program Director Marion Terrill, author of our recent report, Roads to riches: better transport investment. This Forward Thinking event was hosted by John Watson, Cities and Policy editor of The Conversation in Sydney.  
Moderator 
John Watson joined The Conversation in December 2013 as politics & society editor. After two years in that role, he took up the new position of cities & policy editor. John has worked in the news media since he decided in the mid-1980s that a life tracking elephants (in the process of gaining an honours degree in ecology) was less interesting than being a journalist in apartheid-era South Africa. His residence was soon revoked and he returned to Australia. He joined The Conversation after nearly two decades with The Age as an editor, writer and columnist.
Speakers
Marion Terrill is the Transport Program Director at Grattan Institute. Marion is a leading policy analyst and former public servant who has also worked in the private sector. Her public policy experience ranges from authoring parts of the 2010 Henry Tax Review to leading the design and development of the MyGov account. She has provided expert analysis and advice on labour market policy for the Commonwealth Government, the Business Council of Australia and at the Australian National University. She joined the Grattan Institute in April 2015.
The Hon Nick Greiner AC was Premier and Treasurer of New South Wales from 1988-1992. Since his retirement from politics he has been heavily involved in the corporate world as Chairman of several large companies and as the Deputy Chairman and director of others. Nick was inaugural Chairman of Infrastructure NSW between 2011-2013 and current Chairman of The European Australian Business Council (EABC) and a Member of the Board of Governors, Committee for Economic Development of Australia (CEDA). In the Queen's Birthday Honours List of 1994 he was awarded a Companion of the Order of Australia for public sector reform and management and services to the community and in 2000, the Centenary Medal.