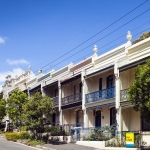 Published by the Sydney Morning Herald, Monday 5 March
Two decades ago, then NSW premier Bob Carr famously declared that Sydney was "full". But more people came anyway. House prices rose. Now, opposition to development is rising again. Unless today's generation of politicians stares down the NIMBYs, Sydney will repeat the mistakes of the past, and housing affordability will get worse.
In the last few years, a revolution has been unfolding in the middle-ring suburbs of Sydney. The city has added 80,000 new apartments in four years, including 60,000 in inner and middle-ring suburbs, mostly in buildings of four-to-nine-storeys. By the end of 2017 there were 350 cranes at work in Sydney, more than half of the total across Australia. For the first time in more than a decade, Sydney is building enough new homes to keep up with population growth.
And this building bonanza is starting to pay dividends: Sydney house prices have fallen 4 per cent in the past 6 months. They may well have further to fall. Of course more supply isn't the only factor behind Sydney's housing slowdown: interest rate rises loom, and recent banking rules have made it harder for investors to get a loan. But housing is a market: record supply contributes to prices being lower than otherwise.
Sydney's apartment boom is also delivering more of the type of housing people want. Grattan Institute research shows that people want more apartments, townhouses and semi-detached dwellings in established suburbs. A decade ago 38 per cent of Sydney's housing stock looked like this. Now it's 44 per cent. But 59 per cent of Sydney residents say that it's the type of housing they want to live in. It is a myth that new home-owners only want a quarter-acre block.
Not everyone is on board with the push to greater density. Existing residents usually prefer their suburb to stay the same, especially if it has good infrastructure and is close to jobs. A recent poll published by Fairfax Media found that two-thirds of residents agreed that Sydney was "full" and development should be pushed outside the metro area. The state opposition is campaigning against "cheap and nasty mass rezoning" and has promised to tear up the "priority precincts" plan if it wins the next election.
Sydney beware. If the anti-development push wins, homebuilding will slow and housing prices will rise. Rather than slam the gate shut, Sydney needs to protect the recent progress in making housing more affordable. Our new report, Housing affordability: re-imagining the Australian dream, shows what's at stake.
Within living memory, Australia was a place where housing costs were manageable, and people of all ages and incomes had a reasonable chance to own a home with good access to jobs. That's no longer the case. Rates of home ownership are falling rapidly among the young and the poor. We've reached the point in Sydney where a large share of the younger generation is simply locked out of the housing market.
Reducing demand – such as by reducing the capital gains tax discount and abolishing negative gearing – would reduce prices somewhat. But in the long term, boosting the supply of housing will have the biggest impact on affordability.
Sydney is projected to grow to 8 million people by 2056, or roughly the size of London today. With parts of Sydney's "urban fringe" already up to 60 kilometres from the city centre, there are practical limits to how much further the city can sprawl.
Even today's record rates of housing construction in Sydney are the bare minimum needed to cope with record rates of population growth: the NSW Government expects that 725,000 extra homes are required by 2036.
But governments should do a lot more. Premier Gladys Berejiklian needs to point out that medium-density dwellings in established middle suburbs are exactly the kind of dwellings that current residents would like their children to buy. And she should point out that this is also the exactly the kind of housing that existing residents will probably want to downsize into as they age.
And governments need to explain why we can't just push people to the regions. In today's services-driven economy, employers (and therefore jobs) are concentrating in big cities. Not surprisingly, our growing population wants to live where the jobs are being created.
The state government should use carrots and sticks to ensure councils help meet the housing needs of a booming Sydney. Where local councils fail to meet housing targets, independent planning panels, or the Greater Sydney Commission, should be given more responsibility for assessing development applications.
These reforms would make a real difference – but they require a step change in political will.
Putting up the "We're full" sign isn't a sustainable housing strategy for Sydney. Sydneysiders – especially the young and the poor – will pay a high price unless the building boom of recent years becomes the new normal.