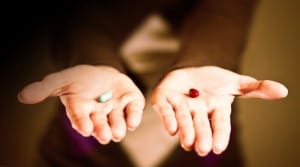 Published by Inside Story, Friday 31 March
On 1 April a series of new drugs will be added to the Pharmaceutical Benefits Scheme, or PBS, and prices for some old drugs drop. But the news could and should be so much better. The price drops are part of a regular "price disclosure" cycle where the government reduces prices it pays in line with discounts pharmaceutical manufacturers give to pharmacies. Tougher implementation would lead to greater savings.
A series of reports by the Grattan Institute has shown that the PBS pays drug companies too much. The most recent, Cutting a Better Drug Deal, released last month, showed how patients and taxpayers could save around half a billion dollars a year if the federal government reformed PBS pricing practices. Tomorrow's price cuts provide a good case study of how this would work.
One of the drugs subject to a price cut is rosuvastatin, a cholesterol-lowering drug used to reduce the risk of cardiovascular disease. Health minister Greg Hunt's media release announcing tomorrow's changes highlights the 22 per cent price cut for rosuvastatin prescriptions – from $27.91 to $21.77 for a pack of thirty 40mg tablets.
But rosuvastatin – marketed as Crestor – is also a nice example of why we need a more aggressive policy approach to prevent Australians paying for expensive newer drugs that don't offer extra benefits.
A 2011 trial published in the respected New England Medical Journal showed that there was no difference between rosuvastatin and a comparative drug, atorvastatin, in the primary health outcome study. In fact, Britain's National Health Service recommends that doctors prescribe atorvastatin – marketed under names including Lipitor – rather than rosuvastatin. More recent research evidence suggests rosuvastatin may be more beneficial than atorvastatin for some patients, though others may do better on atorvastatin. The point is, atorvastatin is listed on the PBS at $15.84 for the equivalent pack.
So yes, the 22 per cent reduction in the price of rosuvastatin should be celebrated. But the real question is, why are we paying 35 per cent more for rosuvastatin than the equivalent atorvastatin?
Australia already has a mechanism, Therapeutic Group Premiums, that's designed to ensure that taxpayers pay the same price for equivalent drugs – that is, drugs that have been shown to give patients the same benefit. Trouble is, this policy has been poorly implemented and is full of loopholes.
The Grattan Institute's analysis shows that if Australia implemented this more vigorously, the government could save $41 million this financial year on the price of statins alone. Even if half the patients currently on rosuvastatin stay with it because they fall into the group for which it is better, considerable savings could still be made.
We need always to be on the lookout for chances to avoid unnecessary spending, rather than simply accepting whatever discounts we can wheedle out of drug manufacturers.