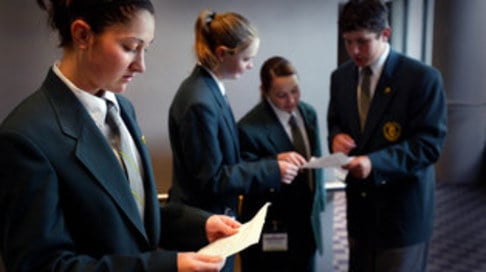 Leading from behind: a schools plan for the new Federal Government
by Ben Jensen
Published by The Australian, Page 12, Wednesday 25 September 2013
The Coalition government takes over federal school education policy after several years of extensive reform by Julia Gillard, first as education minister and then as prime minister. But an extensive reform agenda is still needed for all students across Australia's nearly 10,000 schools.
The Coalition rightly asserted during the campaign that school education was largely the responsibility of the states and territories.
It will be a challenge for the new government to sustain this belief while systematically introducing targeted federal reforms that could make a real difference to students.
It also will have to manage public expectations that the commonwealth as well as the states must do something about school education.
Before key reforms are developed, the government faces two immediate issues.
The first is school funding. Greater clarity and transparency are needed about how much is to be spent on which schools in coming years.
In the noisy lead-up to the election campaign, school funding legislation was passed through parliament and several states signed on to a new funding agreement at the last minute. The details of these agreements are not known and there is uncertainty over what happens to states that didn't sign up.
Will they receive less than others? A methodical approach is required to address these concerns. The details of all funding deals have to be made public.
The Gonski report that laid the foundation for new funding reforms highlighted severe inconsistencies in the amounts received by schools because of special deals done in the past.
Have these been addressed or have they been made worse in the scramble to get states and sectors to sign on to the plan during the election? Will more money actually flow to those most in need?
These questions must be answered and the public told where money will be spent under the new funding system. Only then can a new government begin to assess if further changes are needed to better target funding to our most underprivileged children.
Second, the new government faces a national curriculum that is still being hotly contested.
And the National Assessment Program – Literacy and Numeracy, which applies to years 3, 5, 7 and 9, is creating controversy. The government needs to get on the front foot with both issues, making it clear that NAPLAN brings substantial benefits to students.
Many criticisms of NAPLAN are ill-conceived and not supported by reliable evidence. The previous government allowed these criticisms to fester. The new government will have a much smoother ride if it communicates to the public how learning improves with these programs.
Effective management of the school education sector requires purposeful communication.
An often neglected managerial role for the federal government is increasing accountability and co-ordination across Australia's school systems.
The MySchool website increased individual school transparency and accountability. The next step is to increase transparency and accountability of school systems. This should lead to much needed rigorous and public evaluation of ineffective programs.
The federal government should not underestimate how little states and sectors talk to each other about what works in schools. Much more can be done to take successful local programs across the nation.
Leading the list of targeted federal reforms is initial teacher education.
There is a natural role for the federal government in this area since it holds the purse strings of universities.
It is widely agreed that the quality of initial teacher education must substantially improve. It consistently fails to prepare new teachers for the rigours of classroom teaching.
Existing reform proposals for teacher education lack teeth and rely on old-fashioned input controls.
Bold reforms are required to better assess the quality of programs offered by universities and the graduates they produce. It will not be easy. Many universities will fight to protect the profits that teacher education provides.
School principal training is another area that would benefit from federal reform without overly infringing on state responsibilities.
Given the new government's plans to increase school autonomy and give government schools "independent" status, our school leaders will need better training. Too often they are thrown in at the deep end and forced to learn on the job.
School leaders run multi-million-dollar organisations. They can lift the learning of all students in even the most difficult schools. But existing leadership training levels and programs are inadequate. Reform that improves school leadership could make a huge difference to students' lives.
Another area of potential reform that too often escapes attention is tax reform.
Millions of dollars are being held back from poor government schools because our tax laws make it incredibly difficult for philanthropists and businesses to give money to government schools.
This should have been rectified years ago.
It is not a sexy reform, it will not grab headlines, but it will make a difference to our most disadvantaged children. And this is what our new government should be about.