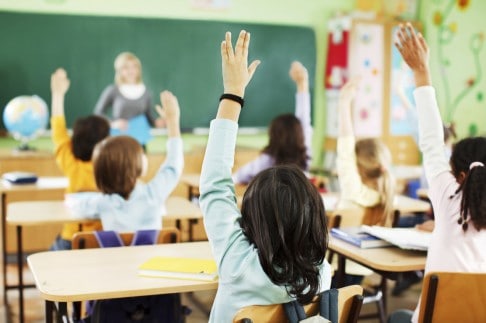 Schools crisis comes with massive waste of tax dollars
by Peter Goss
Published by The Age, Friday 22 January
Victoria's population is growing rapidly. By 2051, the state is projected to have 10 million people. Nearly 8 million people will live in greater Melbourne: including about 1.2 million school-age children.
A rapidly growing population brings opportunities. It also presents challenges, such as the need for new infrastructure, including new schools.
As reported in The Age, I estimate that Victoria will need between 140 and 220 new schools to accommodate 180,000 additional students over the next decade. Fewer new schools would be needed if existing schools expanded, but 7200 new classrooms will be needed either way.
This is no temporary blip. After 20 years of low or no growth during the 1990s and 2000s, Victoria's student population is forecast to grow for the foreseeable future. Yet not a single new state school will open in 2016. The 15 new state schools expected to open in 2017 and 2018 are just the beginning of what's required.
This is a huge challenge for governments. Good long-term planning for schools is essential. We need permanent solutions, not ever more portable classrooms.
Poor planning costs big bucks. It already has: the decision not to acquire land for schools in Fishermans Bend before it was rezoned wasted hundreds of millions of dollars of Victorian taxpayer money.
Planning for new schools is complicated by uneven growth. Two-thirds of projected growth will occur in just 11 of Victoria's 80 Local Government Areas (LGAs): six in outer growth corridors and five in the inner city. The planning issues for each are very different.
Graphic published by The Age 17 January 2016. Use with permission.
Melbourne's outer growth corridors will house more than half the new students. Wyndham, Cardinia, Melton, Whittlesea, Hume and Casey each need at least 10 new schools to absorb more than 10,000 new students within a decade.
Schools play a central role in these outer growth corridors. Good schools help new suburbs grow into strong communities. Land is relatively cheap in new suburbs, but designing schools that link well with other community facilities is complex. Successive Victorian governments have recognised this. They have built innovative models of primary schools that integrate childcare and health facilities.
The challenges are very different in the inner city, where Melbourne's five most central LGAs are all projected to experience rapid growth. Here, the great challenge is the high price and scarcity of land. Many existing schools are already overcrowded.
In the past, governments' chief response to this challenge has been wishful thinking. In Docklands, for instance, young couples were expected to move out to the suburbs once they had children. Instead, they chose to stay. Despite promises from successive state governments, there is still no school in Docklands. State primary schools in neighbouring suburbs are full.
Victorian planning ministers should have learnt the lesson: space for schools must be part of any large urban redevelopment plan.
Fishermans Bend shows that the lesson was not learnt. And there, the costs will be much higher.
Fishermans Bend, rezoned for development in 2012, covers the industrial areas of Port Melbourne and South Melbourne. More than twice the size of Docklands, Fishermans Bend was originally projected to house about 80,000 people. Recent estimates suggest that the eventual number could be closer to 150,000.
The rezoning process was problematic. While developers and existing landowners captured billions of dollars in windfall gains, no land was set aside for the many schools that will be needed. This was a very costly mistake.
In time, Fishermans Bend will probably need between six and 10 state primary schools. Only two are currently planned: Ferrars Street School in South Melbourne, and the South Melbourne Park Primary School.
We can estimate the excess cost of land acquisition for schools by looking at the case of the Ferrars Street School. Scheduled to open in 2018, Ferrars Street will be Victoria's first "vertical school", with multiple stories, and recreation facilities on the roof.
Yet even a vertical school requires a substantial footprint. Ferrars Street, which has a projected enrolment of about 500 students, sits on a site of just over 5000 square metres. This land is now worth roughly $24 million – compared to maybe $6 million before rezoning.
Of course, primary school students become secondary school students, and the land required per student is similar. Added together, the land acquisition bill for state schools in Fishermans Bend will eventually run to hundreds of millions of dollars.
Maybe three-quarters of this money will line the pockets of whoever owned the land before rezoning.
This is waste on a massive scale that could have been avoided with a bit of sensible planning. Every dollar that is spent on excess land acquisition costs in Fishermans Bend is a dollar that cannot be spent on developing a school elsewhere. The wasted cost of this poor planning decision could have paid for dozens of new primary schools in outer growth corridors, where land is cheap.
There is hope in sight, with broad recognition that school planning processes need to be improved. More transparency about detailed population projections would be a good start. Without a clear view of the challenges, it's too tempting for politicians to duck hard choices that span multiple electoral cycles.
In the end, students must be educated. The schools will be built. Where and when they get built should be determined by demographics, not politics. Better planning would mean they get built when they're needed, and at a much more affordable cost.