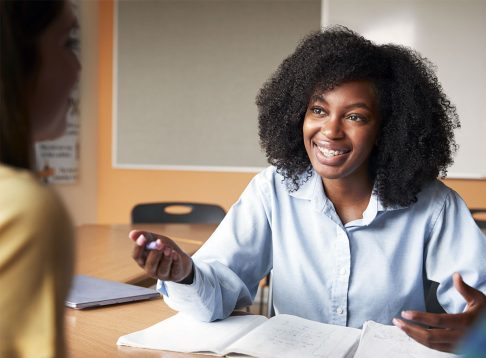 The PM must act quickly on a schools COVID catch-up
Published in The Sydney Morning Herald, 4 July 2020
If Scott Morrison is genuine about his concern for disadvantaged students who fell further behind during COVID school closures, he would help them catch up.
Boris Johnson is doing just that. Last month, the UK government announced a £1 billion strategy to ensure disadvantaged students get high-quality tutoring during school hours over the next 12 months.
The Grattan Institute's recent report, COVID catch-up, makes a similar case for a $1 billion tutoring blitz in Australia. The Morrison government will be spending billions of dollars over the next 6-to-12 months to kick-start the economy. A small fraction of that new federal spending – less than 1 per cent – should be spent on tutoring in schools. It would be a win-win-win: the tutors would get extra income, the economy would get extra stimulus and, most importantly, disadvantaged students would get the chance of a better school experience.
It should be a no-brainer. International think tanks and education experts in the US and UK have similarly recommended intensive tutoring to stem the learning losses from COVID lockdowns.
Under the Grattan plan, about 100,000 tutors would be hired to help about 1 million disadvantaged children. The tutors would include a large number of university students and graduates, giving them extra income during the recession that they would be likely to spend quickly and help boost the economy.
Australia's disadvantaged students desperately need the help. Vulnerable students suffered big learning losses during the six to nine weeks of school closures in NSW, Victoria, Queensland, Tasmania and the ACT. And they could fall further behind as the recession causes increased stress at home.
The federal government needs to act quickly if it is to get a tutoring scheme up and running in 2020. An announcement is needed in the next few weeks if tutoring is to begin in Term 4.
Australia should learn from the UK's rapid national response. The Johnson government hatched its plan within eight weeks. It commissioned a rapid market scan of good-quality tutoring providers, and designed a clever scheme that expands proven tutoring programs where they already exist.
One delivery partner in the UK will be the successful Tutor Trust, a maths and reading program that has been shown to increase disadvantaged students' learning by three months over 12 weeks of intense tutoring. Students in groups of three are tutored once a week. Only one in four applicants make the grade to become tutors. They are then trained to work closely with students and teachers. The tutoring programs are typically highly structured, with set materials and teaching techniques.
In Australia, governments should set high recruitment standards. Tutors should come from high achievers at university. They should have experience of working with children, and they must get upfront training and ongoing support.
Individual schools should decide what tutoring services their students might need. Good co-operation between teachers and tutors will be essential. Governments should consult with schools, teachers, and unions to ensure everyone is onboard.
The onus is on the federal government to act now. State governments are interested, but are waiting for the green light. If they wait too much longer, the opportunity will pass, and a generation of disadvantaged students will fall further behind.