The grand redesign of the migration system has only just begun
by Brendan Coates, Trent Wiltshire
More Australians than ever need aged care, but the system is a mess.
First the Royal Commission into Aged Care and then the pandemic exposed the heart-breaking flaws.
Most stem from one central issue – the difficulty of attracting enough people to work in aged care.
The government is looking at migration to fill the void.
Home Affairs Minister Clare O'Neil has announced plans to introduce a new visa for care economy workers as part of the government's migration policy overhaul.
But it's a risky approach that could lead to more low-skilled workers being exploited and fewer skilled workers settling here permanently.
Migrants mistreated
The government argues it needs a new visa because most aged-care jobs, such as personal care attendants, are ineligible for existing skilled visas.
These jobs pay well below the minimum wage threshold for temporary sponsorship of $53,900 a year, which will rise to $70,000 from July 1.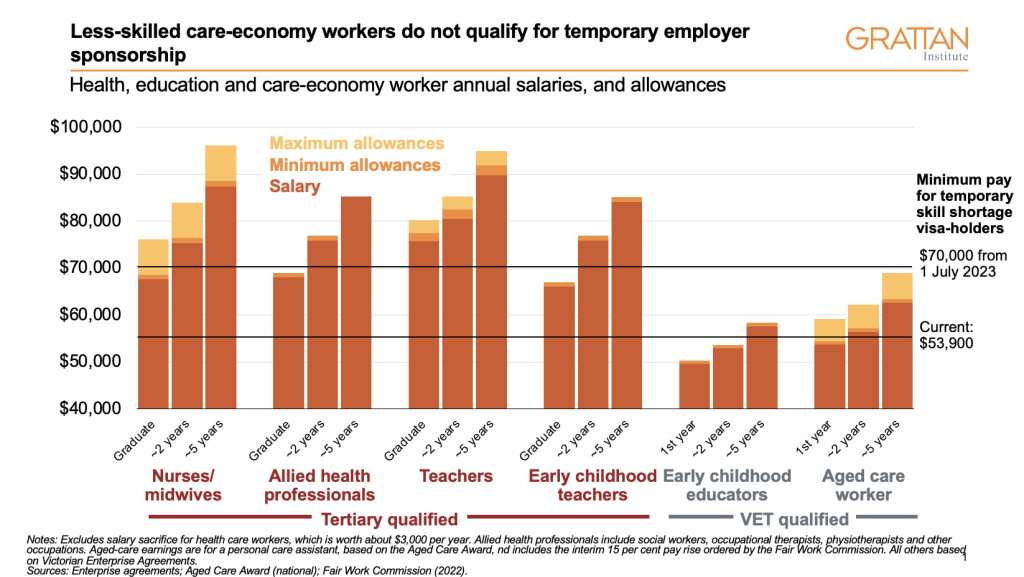 But using temporary migration to fill labour shortages for lower-wage jobs can undermine efforts to raise wages in those sectors and make it harder to close the gender pay gap.
Although migration doesn't lower wages overall – because migrants, like the rest of us, spend what they earn – channelling large numbers of migrants into specific occupations can hurt people already working those jobs.
Recruiting more temporary lower-skilled migrants to fill care economy jobs in Australia increases the risk that they will be exploited once here.
Temporary workers who earn low wages, or who have onerous conditions attached to their visa, struggle to bargain for themselves and often don't report mistreatment because they fear that if they do they may be deported.
History shows that once a sector is opened up to temporary, low-wage work, such as horticulture or hospitality, working conditions can get worse. Local aged-care workers – overwhelmingly women – could be among the first to lose out if employers mistreat migrants.
The government recognises this risk, so has decided that the visa will be governed by a new tripartite agreement between industry, unions, and government. But the details are yet to be worked out.
A pathway to permanent residency?
It's not yet clear whether holders of the new visa will ultimately be offered permanent visas. If they are, migrants with more skills would be pushed back down the queue for the limited number of permanent visas on offer each year.
The Grattan Institute calculates that if Australia were to reallocate just 5000 permanent skilled visas each year to aged-care workers with certificate-III VET qualifications, it would cost the budget up to $40 billion (in today's dollars) through lower tax collections over the next three decades.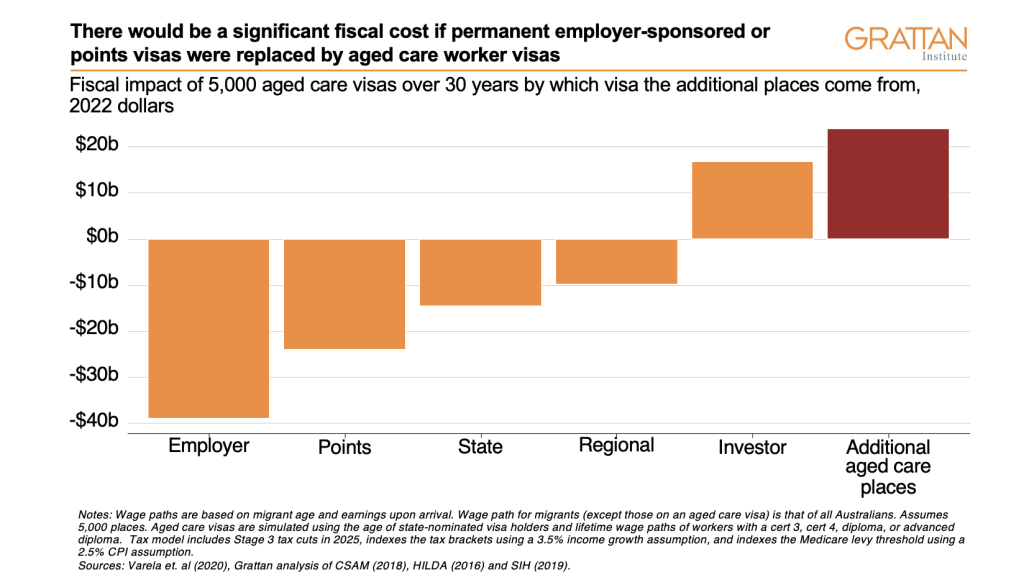 And even if aged-care workers were offered permanent residency then many would leave the sector to take higher-paying jobs elsewhere.
Many migrants already work in the aged-care industry: About one-quarter of aged-care workers in Australia hold a visa of some kind. But these workers are mostly permanent residents, as partners, refugees or the spouses of skilled migrants.
All these people are free to choose where they work.
Need for higher wages
Aged-care workers are hard to find and retain because the pay and conditions are poor.
Pay for personal care workers starts at $25 an hour – little more than starting-level jobs at McDonald's or Bunnings, which require no formal qualifications.
Unpaid work and split shifts are common in aged care. It's no surprise that most people choose other jobs that pay more and demand less.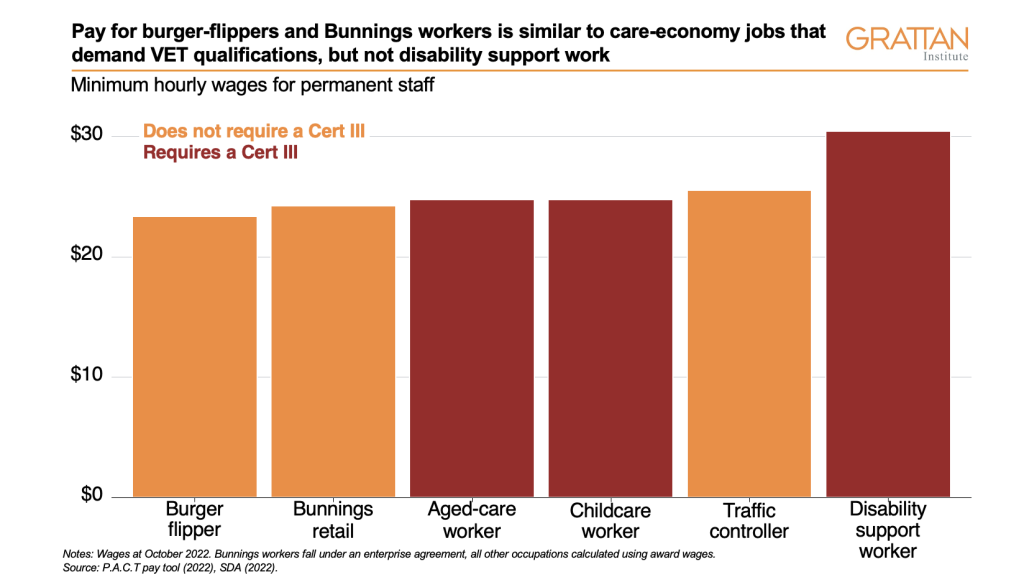 When employers can't find enough workers, they usually raise wages to attract staff. But when the federal government holds the purse strings, as in aged care, things become more complicated.
Past federal governments have been reluctant to raise wages since they would foot the bill. The result is a chronic workforce shortage – and it's set to get worse.
Migration can help in the short term, but the problem of aged-care worker shortages will only be fixed if wages rise to reflect what these jobs demand.
A landmark work value case now before the Fair Work Commission (FWC) could result in award wages rising by up to 25 per cent.
The FWC has already approved an interim 15 per cent pay increase, which will cost about $2 billion a year once implemented from July, and much more as our population ages.
Attracting extra, less-skilled migrants may be necessary to keep aged-care centres open in the short term.
But creating a new, low-skilled care economy visa comes with big risks that will require careful management. The government's grand redesign of the migration system has only just begun.
Brendan Coates
Economic Policy Program Director
Brendan Coates is the Economic Policy Program Director at Grattan Institute, where he leads Grattan's work on tax and transfer system reform, retirement incomes and superannuation, housing, macroeconomics, and migration.
Trent Wiltshire
Migration and Labour Markets Deputy Program Director
Trent Wiltshire is the Deputy Director, Migration and Labour Markets, in Grattan Institute's Economic Policy Program. He previously worked at the Victorian Department of Treasury and Finance, as Domain Group's economist, and at the Reserve Bank of Australia.
While you're here…
Grattan Institute is an independent not-for-profit think tank. We don't take money from political parties or vested interests. Yet we believe in free access to information. All our research is available online, so that more people can benefit from our work.
Which is why we rely on donations from readers like you, so that we can continue our nation-changing research without fear or favour. Your support enables Grattan to improve the lives of all Australians.
Donate now.
Danielle Wood – CEO