Watch a recording of the event
Listen to a podcast of the event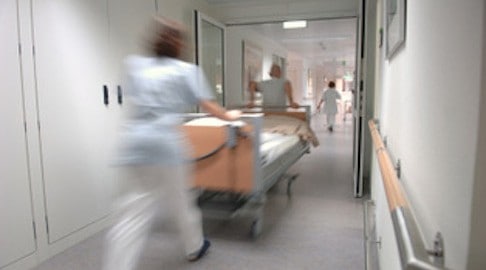 The quality and safety of hospital care has been in the news in both Victoria and New South Wales in the last twelve months. In this Policy Pitch event Dr Stephen Duckett, Director of the Health Program at Grattan Institute discussed issues in monitoring and improving the safety of hospital care. What is the role of public reporting? What can and should be measured? What is the role of clinical engagement?
Dr Duckett drew on his role in chairing the recent review of safety and quality of care in Victorian hospitals and was joined by former members of that review, Maree Cuddihy, CEO of Kyneton Health and Associate Professor Harvey Newnham, Clinical Program Director of Emergency and Acute Medicine and Director of General Medicine, Alfred Health.
Speakers
Maree Cuddihy has been in the health sector for 25 years, working with and leading people to successfully deliver healthcare outcomes and innovations. She built a career starting as nurse – with midwifery and oncology specialities – before moving into senior executive positions, in which she developed expertise across operations and management. Maree is now the CEO of a small rural health service, Kyneton District Health, a position she began in March 2014. This builds on previous experience as a Director of Nursing and General Manager of Broadmeadows Health Service. Before moving to Kyneton she was the General Manager, then Executive Director of Business Performance, at the Northern Hospital in Melbourne, which is a 323 bed acute facility with a $200M+ budget.
Associate Professor Harvey Newnham is an Endocrinologist and General Physician and an Associate Professor of Medicine with Monash University. He has been 'Director of General Medicine' since 2007 and 'Clinical Program Director of Emergency and Acute Medicine' since 2009, for Alfred Health, Melbourne. Harvey did a sabbatical at the Intermountain Institute of Healthcare Delivery Research, Salt Lake City in 2014 which included completion of the "Advanced Training Program in Health Care delivery improvement". He is a board member of Better Care Victoria and sits on other Victorian DHHS committees including the Patient Safety Advisory Committee, Emergency Access Reference Committee, Clinical Leadership Group on Care of Older People in Hospital and is chair the Mortality Expert Review Panel. He is also honorary chair of a not-for-profit company, Health Education Australia Limited (HEAL).
Dr Stephen Duckett is the Health Program Director at Grattan Institute. Stephen has held top operational and policy leadership positions in health care in Australia and Canada, including as Secretary of what is now the Commonwealth Department of Health. He has a reputation for creativity, evidence-based innovation and reform in areas ranging from the introduction of activity-based funding for hospitals to new systems of accountability for the safety of hospital care. An economist, he is a Fellow of the Academy of the Social Sciences in Australia.