How Western Australia frittered away its mining bonanza
by John Daley
Published by Weekend West, Perth, Saturday 3 August 2013
The rest of Australia is very different from the West. Most other State Governments have posted several years of Budget deficits. They collect substantially less revenue per capita. The sun is shining on WA. But the sunshine almost certainly will not last.
Analysis by the Grattan Institute shows that WA governments spend $2000 per resident more than their NSW and Victorian counterparts. They can only do so because of extraordinary mining revenues. A decade of good times has led to profligate spending. If mining royalties slow – and there is a good chance they will – WA Budgets are in trouble. The Government must save more now to prepare for more difficult times ahead.
Mining activity contributes a large part of WA's income. Royalties collected directly by the State Government plus Commonwealth payments for royalties that it collects from the oil and gas of the North West Shelf contributes $2400 for every WA resident. Mining revenues now make up 23 per cent of the WA Budget, up from 9 per cent 10 years ago.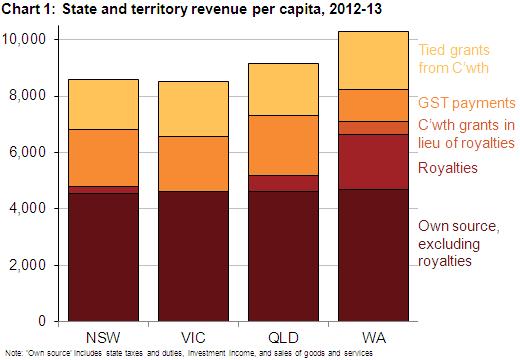 Instead of using this windfall to reduce other taxes or to save for harder times, WA governments are spending most of it. Taxes and charges per resident – mostly payroll tax, stamp duty and motor vehicle taxes – are similar to those in the other three more populous States.
The Commonwealth also provides the State with $5.2 billion in "tied" funding linked to particular spending priorities, such as health or schools. This is more than $2000 per resident, a little more than the Commonwealth provides per resident to other large States.
It is true that the Commonwealth pays WA substantially less per resident in GST. Yet when all these revenues are added up, the WA State Government receives $10,300 per resident, almost $2000 more per resident in total revenue than its counterparts in NSW or Victoria. This is why other States are relatively unsympathetic to WA claims to larger GST payments.
In almost every category of government expenditure – health, education, infrastructure, criminal justice, and industry – WA is spending more per resident. As a result, the State is spending almost its entire revenue windfall. Although WA appears to spend slightly less on infrastructure, transport and planning than Queensland, the Queensland figure was inflated by one-off flood recovery.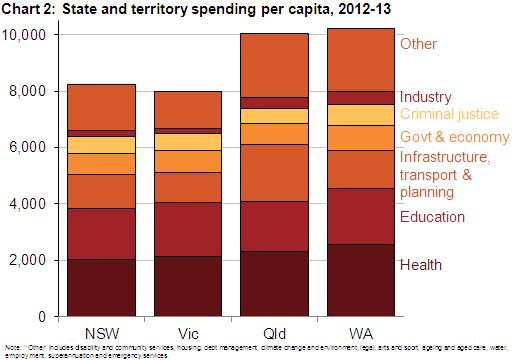 Let's consider health, the largest single expense for all State governments. The WA State Government spends $6.4 billion – more than $2500 per resident. Over the past decade this grew 62 per cent per person in real terms. Again, this is faster than the rest of Australia, except for Queensland.
To be fair, health costs are growing rapidly all over the country. State governments spent $42 billion in real terms more on health in 2012-13 than they did in 2002-03 – a real increase of 49 per cent per person.
Many believe health costs are growing because the population is ageing. Grattan Institute's analysis in its Budget Pressures report this year shows that this isn't so. Although the average Australian is a little older than 10 years ago, and older people use more health services, this doesn't explain much of the spending increase. Most of the increase is because a 60-year-old today, relative to a 60-year-old 10 years ago, sees the doctor more often, takes more tests, has more operations, and consumes more prescription drugs.
With such rapid growth, health consumes an increasing proportion of the WA Budget. All categories have grown in real terms over the past decade. But as health increased from 21 to 25 per cent of the Budget, education (mostly schools) contracted from 24 to 19 per cent.
Of course, some of these spending increases were driven by increased costs. State governments spend most of their money on wages for teachers, nurses, police and other public sector workers. As the mining boom drove up other wages and the cost of living in WA, there was also pressure to increase public sector wages.
But it is likely that spending also increased simply because the WA Government didn't need to make tough choices. When times were good and money was flowing into Treasury, it was understandably tempting to spend it.
The sun may not shine quite so brightly on WA in the future. If mining prices fall faster than volumes increase, then royalty revenues will fall. Although GST payments would then increase, they will not fill the gap. Difficult decisions will then be required to maintain a balanced State Budget. If WA revenues looked more like those in Victoria and NSW, the WA State Government would need to cut spending per capita by as much as 15 per cent.
Health, education and infrastructure make up more than half of State Government spending. Significant Budget readjustment will inevitably affect all of these areas. There are no easy choices.
WA has had a dream budgetary run over the past decade. But like the Federal Government, it has spent much of the windfall. The WA Government would be wise to start saving now, to ensure that it continues to have a stable Budget for the next decade.