Media coverage of Labor's budget reply last week focused on proposed reforms to the aged care sector. But there was another significant policy announcement in Anthony Albanese's speech that has received less attention: a major increase in childcare support subsidies.
The Government's recent increases to the Child Care Subsidy for families with two or more children in care was itself a significant step in reducing some of the biggest disincentives faced by parents looking to increase their hours at work. But now Labor is proposing to raise subsidies even further. Labor's policy will cost significantly more. But it's also far more likely to make a big difference for families and for workforce participation.
What's the Coalition's policy?
The Coalition Government announced improvements to the Child Care Subsidy last year. The change, effective from March 7 this year, increased the subsidy for a family's second child in care. For families with two children under 6, this has made childcare much cheaper. The annual cap was also abandoned, which removed some of the biggest workforce disincentives for families earning over $190,000.
What's Labor's policy?
Labor's new policy sees the Government's improvements, and ups the ante by increasing the subsidy for first-borns. The base subsidy for a family's first child in care would increase to 90 per cent and the means-test taper would be less steep. The 'steepness' of the taper is one of the big contributors to sharp increases in out-of-pocket costs when mothers choose to work more and use more childcare.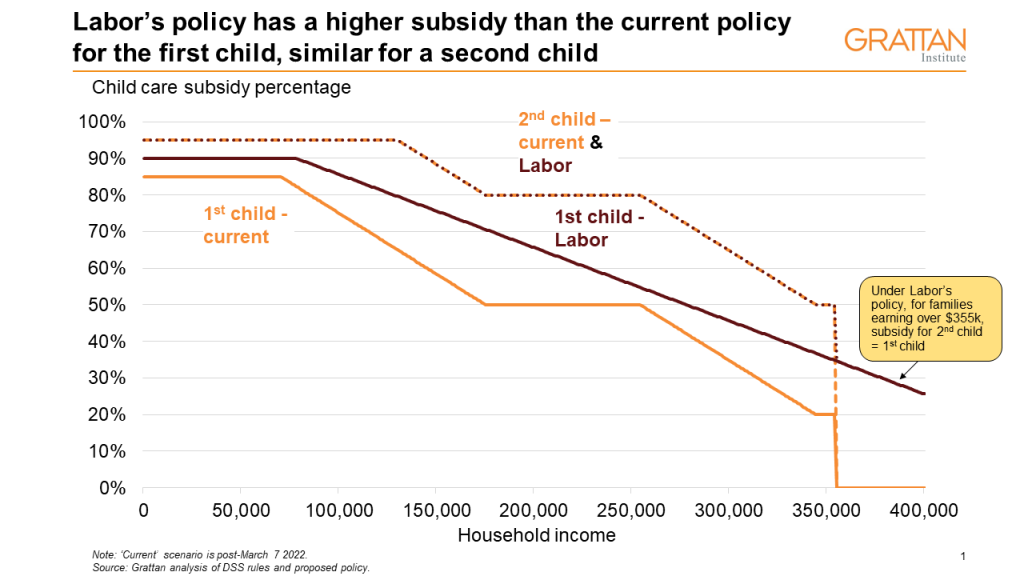 What's the impact?
A middle-income family (each parent earning $80,000 a year) with two young children paying average day-care costs of $110 a day per child. Before the recent changes, a 55 per cent subsidy for both children meant parents were paying $99 a day in total. On March 7, the subsidy they could claim for the younger child increased to 85 per cent, leaving them paying $66 a day. Under the Labor policy, the subsidy for the older child would rise to 74 per cent, meaning parents would pay only $46 a day for both children. This family would be $82 a week better off if the children are in care for four days a week.
As well as helping families with two or more children in care, Labor's policy also increases the subsidy for a family's first child in care. This means that Labor's policy is broader: almost all families who use childcare stand to gain, regardless of the number of children, their ages, and the family income.
What would Labor's policy mean for women's workforce participation and family budgets?
Even with the recent changes to Government policy, mothers with two children in long day care can still lose 60, 80, or even 100 per cent of the take-home pay they earn in a fourth or fifth day of work, largely due to childcare costs. Labor's new policy reduces the disincentives for those families.
As the first figure below shows, in a family where the father earns $60,000 and the mother would earn the same if she worked full time, the second earner loses 76 per cent of what she earns on her fourth day and 87 per cent on the fifth day. Under the Labor policy, these so-called workforce disincentive rates would be lowered, so the second earner would lose 68 per cent on the fourth day and 78 per cent on the fifth day. Or, to look at it another way, the ALP policy represents a 33% pay rise on the second earner's 4th day (an extra $940 annual incentive for working that extra day) and a 75% pay rise on her 5th day (an extra $1,125 annual incentive for working that extra day).
Overall, the family would be $2,700 a year better off if the second earner works four days, or $3,800 better off if she works full-time (second figure below).
Workforce disincentives remain high, even under the Labor policy. Some working mothers will continue to lose much more than the top marginal tax rate of 45 per cent when they work an extra day, for example. But for parents considering an extra day at work, Labor's proposal represents a significant improvement on the status quo.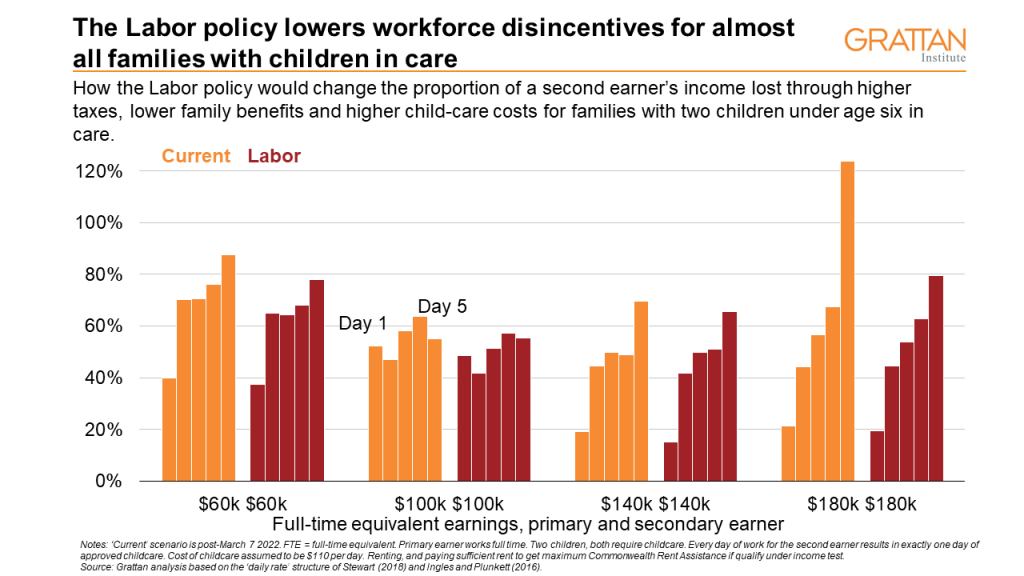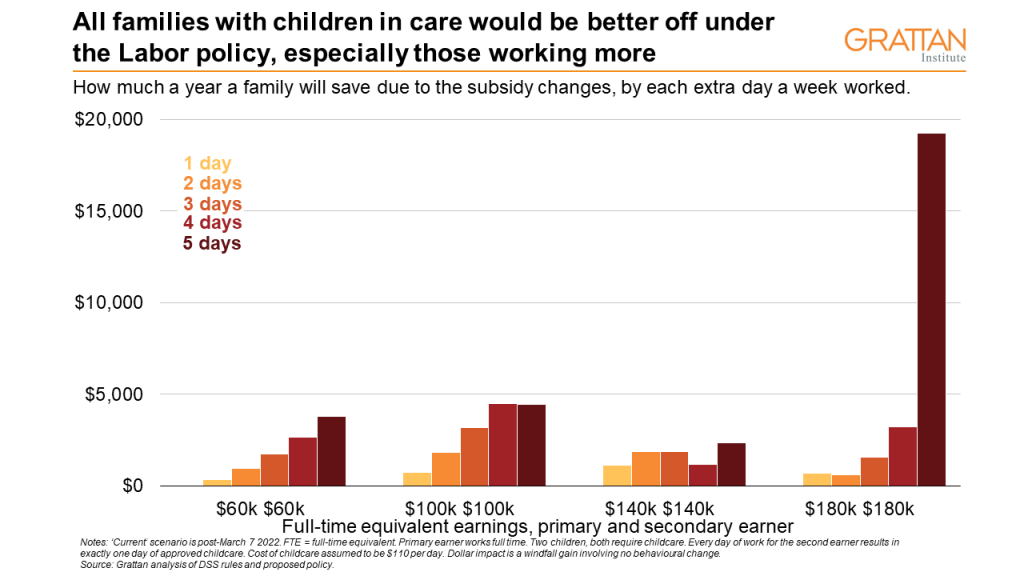 How does the Coalition's policy compare to Labor's?
The Government's recent changes to the Child Care Subsidy were helpful and well-targeted, tackling some of the worst out-of-pocket costs and workforce disincentives facing working parents with children in care. The changes meant a material improvement for about 270,000 families.
Labor's policy is broader. It supports more families, and would have much larger and more widespread economic benefits. It would bring down out-of-pocket costs and sharpen workforce incentives for a much wider group of families.
Labor's policy would also cost more than twice as much. But the positive impact on economic activity flowing from higher workforce participation is also likely to be more than twice as big under Labor's policy. We estimate that the Labor policy would result in about eight per cent more hours being worked by second-earners with young children. This works out to about 220,000 extra days worked in Australia every week, mostly by mothers who are currently working part-time increasing their hours – the equivalent of 44,000 extra full-time workers.
At the May election, voters will have a clear choice about how much they want the federal government to invest in making childcare cheaper.
Labor has also pledged to commission the ACCC to design a price-regulation mechanism for childcare, and direct the Productivity Commission to conduct a review of the sector. These studies should aim to identify areas where lack of competition is putting upward pressure on fees, so that intervention can reduce costs for parents and government.
Updated on 10 May 2022 to provide further explanation of policy impacts.
All blog posts published by the Grattan Institute are licensed under a Creative Commons Attribution-NonCommercial-ShareAlike 4.0 International License. You may republish our work within the following
guidelines
.
While you're here…
Grattan Institute is an independent not-for-profit think tank. We don't take money from political parties or vested interests. Yet we believe in free access to information. All our research is available online, so that more people can benefit from our work.
Which is why we rely on donations from readers like you, so that we can continue our nation-changing research without fear or favour. Your support enables Grattan to improve the lives of all Australians.
Donate now.
Danielle Wood – CEO